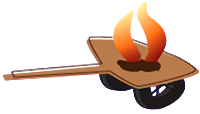 We're thrilled to let you know about two upcoming workshops in October, organized by The Fire Within. The first is "The Ultimate Pie With Peter Reinhart," for those of you focused on cooking in your home/garden wood-fired oven. The second is "Getting Started With Your Own Portable Brick Pizza Oven Catering Business," for people who would like to start a business doing private catering, farmers markets and festivals.
Here, we're giving you a snapshot of what you can expect – find all the details on The Fire Within workshops page (click tabs at top).
These are great events. Maybe we'll see you at The Ultimate Pie?
The Ultimate Pie With Peter Reinhart
October 16 and 17 (full schedule)
Boulder, Colo.; $549 Individuals, $999 Couples (limited space)
Do you own a wood-fired oven? Are you ready to take wood-fired oven cooking to the next level ... and knock your friends' socks off at your next backyard pizza party? If so, attend The Ultimate Pie workshop.
Join Peter Reinhart and other wood-fired oven chefs for an unforgettable, hands-on weekend workshop! Learn and enjoy wood-fired cooking at its best: new pizza doughs, bread-baking, international cuisine and incredible desserts – all made in a wood-fired oven. Taste samples of cheeses and tomatoes used throughout the pizza industry and learn where to purchase them. Perfect for both old pros and new wood-fired oven cooks.
The distinguished guest, Peter Reinhart, is author of the best-selling book American Pie: My Search for the Perfect Pizza and the modern classic The Bread Baker's Apprentice, named "cookbook of the year" in 2002 by the James Beard Foundation and the International Association of Culinary Professionals.
>> For more information and to register: http://theultimatepie.eventbrite.com/
Getting Started With Your Own Portable Brick Pizza Oven Catering Business
October 23 and 24 (full schedule)
Boulder, Colo.; $899 Individuals, $1,500 Couples ($250 reimbursement off the purchase of a trailer)
This workshop is designed to take you through all the stages of starting your own wood-fired pizza oven catering business. Learn firsthand from professionals in the field, and practice using the very same equipment you'll need to run your own thriving business!
Get Rolling in The Dough
Every chapter in the business manual "Rolling in The Dough" will be covered, along with:
How to use a wood-fired oven and manage the fire
How to make scrumptious thin-crust pizza dough and how to properly store and transport it
How to set up a portable wood-fired oven to cater any type of event, and what events will be most profitable
How to obtain your health department license
How to choose the proper equipment and save money when purchasing it
How to leverage effective marketing strategies
Get Real Hands-on Experience
On Sunday, The Fire Within will host an on-site catering event where you can practice and see firsthand what it's like to host your own event for 30+ people!
>> For more information,
the full schedule (it's packed!) and registration: http://gettingstartedoctober2010.eventbrite.com/