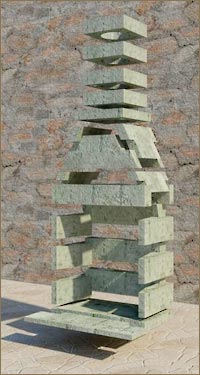 Last month, we introduced you to the latest offering from Forno Bravo: our new line of Calore2G outdoor fireplace kits. Now, we'd like to give you a few more details.
First, we invite you to take a look at the Calore2G installation animation, which shows you just how easy it is to install your very own outdoor fireplace.
We've heard that many people are concerned with the cost of a real brick, site-built fireplace, but don't want to risk sacrificing a realistic appearance or quality with a fireplace kit. We completely understand! There are indeed a number of metal firebox kits out there, and you don't have to look too closely to see they aren't real ... fake firebricks and all.
Our Calore2G masonry fireplace kit, however, is finished with real firebricks, making it virtually impossible to tell the difference between our fireplace and a custom, "one-brick-at-a-time," site-built fireplace.
Just a few of the other features we think you'll love about the Calore2G:
100% interlocking joints: The individual pieces "snap" together, taking the guesswork out of assembly and making it easy to accurately line up the various components.
Perfect throat and firebox design: The sophisticated throat and firebox design promote optimal air movement and proper venting. As a result, your fireplace will start easier, and less smoke will escape through the fireplace opening so you can enjoy the warmth of your fireplace ... without the smoke!
Refractory chimney: Bundled with each fireplace, the refractory chimney offers a number of advantages – at no extra cost – over fireplaces where the chimney is either optional or metal. Unlike a steel chimney, the Calore2G chimney is easy to assemble and finish. These solid chimney pieces can be covered with stucco, stone or brick, and they do not require any additional framing. Plus, because the chimney is solid refractory, it retains heat inside the chimney opening for optimal draw.
Note that we have announced a "bricks-and-mortar" build option for the Calore2G fireplace kits. With this option, you can buy the bricks and mortar locally, if you have a good supplier. Of course, you also can buy everything you need – the fireplace kit, bricks and mortar – directly from Forno Bravo for one-stop shopping. For more information on the bricks-and-mortar option, contact us at (800) 407-5119 or info@fornobravo.com.

Learn more: