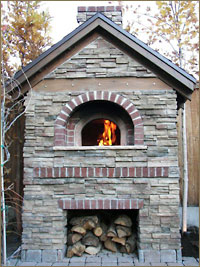 Planning any home improvement or renovation project is always easier with a little inspiration. And what better way to be inspired than to look at photos of successfully completed projects?
We've learned from our own experience, and from listening to others' stories, that a little photographic inspiration can go a long way. That's why we're thrilled the Photos section on the Forno Bravo website is growing by leaps and bounds!
We now have 27 pages of customer-submitted photos on our website. Wood-fired oven users from all over the world have sent in hundreds of photos representing different design styles and outdoor kitchen layouts, with photos from: the U.S., Canada, Mexico, the UK, Ireland, France, Belgium, Holland, Switzerland, Denmark, Slovenia, Sweden, Norway, Russia, the Czech Republic, Bahrain, Saudi Arabia, Iraq, Japan, China, Malaysia, the Philippines, Thailand, Brazil, the Virgin Islands, Australia, Tasmania, New Zealand, Tanzania, Kenya and South Africa. Wow!
Of course, this worldwide show of love for wood-fired cooking makes us very happy.
To view the photos, visit our Photos section. Each page has a thumbnail of the oven photo. If you click on the thumbnail, you can view a full-size photo.
If you've completed your oven design or outdoor kitchen: We invite you to send in images of your projects. Others will benefit from seeing your work – and who knows what creativity you may inspire! Check out our special content below, too!
For those of you in need of a little inspiration: See our Design Styles section (igloo, corner oven, stone house, barrel vault and many more!) and the Photos section ... and start building! We look forward to seeing your results.