Welcome!
The first quarter of 2010 has proven to be an exciting one for Forno Bravo! Topping the list is the success of our first Forno Bravo Expo, held Feb. 20-21 on the Monterey Peninsula. Read all about the event and find a link to a photo slideshow in the article below. We've also included a mouth-watering recipe for oven-roasted chicken from one of our star presenters, Antonio Laudisio.
With the Expo, expansion into new markets, online activities, word-of-mouth "buzz" and other efforts, the Forno Bravo community continues to grow. More and more people are discovering the pleasure of wood-fired cooking. (We're not surprised!) In fact, this month – for the first time ever – the Forno Bravo website reached 1 million page views in just one week!
In other website-related news, we recently created the Forno Bravo Online Library – a single page where you can easily and quickly find and download all the Forno Bravo resources, including data sheets, manuals and other helpful items. (Note: You'll still need to order the free eBooks through the Forno Bravo Store.)
Finally, in this edition of the Wood-Fired Newsletter, we're putting the spotlight on our modular oven kits. An alternative to the Forno Bravo fully assembled ovens, the modular kits are easier to ship and the most cost-effective way to install a wood-fired oven. See more on choosing the best oven for your needs at the right.
We very much appreciate your support. We love what we do – and know we have you to thank!
Best regards,
James
Forno Bravo Expo 2010 Highlights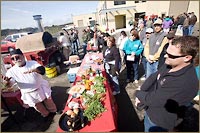 The first Forno Bravo Expo, held Feb. 20-21, was a great success!
Check out our Expo 2010 photo slideshow!
The entire Forno Bravo team thanks everyone who attended, our fabulous presenters and cooks, and those working behind the scenes to make this inaugural event run smoothly. We enjoyed meeting many of you in person, putting faces with names from online exchanges. We also very much appreciated hearing and participating in the conversations taking place among old friends and (now) new friends! And, of course, the food. The food!
To briefly recap, here are just a few of the highlights from the Expo:
140 attendees on Saturday and 50 on Sunday (despite the rain): The crowd was great, and we had visitors from all around the United States, including Utah, Hawaii, Illinois, Iowa, Nevada and Oregon. We also got to meet up with Rafael and the group at Forno Bravo UK, Antonio from Forno Bravo Australia, and Pierluigi (from Italy), our export sales manager.
Scott at Bella Familia: He brought his catering oven down and made some incredible pizzas (Yukon golds with gorgonzola, roasted garlic with rosemary, and more).
Gabriel and Juan from Il Fornaio: They made roast, stuffed pork loin, shrimp and mozzarella bruschetta, mussels, bread, handmade cannelloni, shrimp with pesto – all incredible. (These guys can cook.)
Jeanette and Mark from Orlando Foods/Caputo: Jeanette is VPN-trained, and they were making incredible mozzarella di bufala pizzas and teaching dough handling. Watching Mark pump perfect pizzas out of the Primavera60 on Sunday was a great thing to see. He's a real professional, and he loved the little oven!
Antonio from Laudisio Ristorante: Antonio had the whole crowd hanging on his every word. He made Paella Valenciana, roasted chicken, frittatas and much more. (See his recipe for oven-roasted chicken below.)
Joseph from The Fire Within: Joseph was keeping everybody's oven working and showing the catering ovens.
We plan to make this an annual event. We'll certainly take into account your feedback. For those of you who haven't chimed in, please feel free to pass along comments and suggestions!
Recipe: Antonio Laudisio's Oven-Roasted Chicken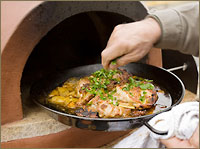 Antonio Laudisio, a great guy and a great chef, not only was kind enough to join us at the Expo, but also has passed along this mouth-watering recipe for "pollo del forno di nonno."
Pollo del Forno di Nonno
1 free-range chicken (boned)
1/2 pound of sweet Italian sausage (out of its casing)
4 cloves of garlic
2 sprigs of rosemary
6 spring potatoes (washed, baked in oven and sliced)
Sea salt and ground black pepper (to taste)
1/2 cup of good olive oil
Juice of 2 lemons
Chopped flat leaf Italian parsley
This recipe is meant as an invitation. You can make adjustments to your taste.
The chicken is boned and flattened. Put a layer of potatoes in a large skillet (Lodgeware). Add salt and pepper, some olive oil, crushed garlic and rosemary. Layer the ground sausage on top of the potatoes, and then place the chicken (with skin side up) on top of the sausage. Season with salt and pepper. Place in your Forno Bravo oven at around 450 degrees for about 20 minutes or until done (chicken is bubbling and juice is running clear). If you see skin getting black, cover with romaine lettuce leaves. Sprinkle with parsley and lemon juice and serve. Enjoy, Antonio.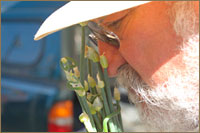 Antonio's restaurant, Laudisio, is located in Boulder and focuses on using the freshest local ingredients available. Antonio writes: "My grandfather cooked on the ocean liners coming from Italy in the early 1900s. He moved his family to New York and opened the first family bakery in Brooklyn. Out of this, the family pizzeria/restaurant tradition emerged, first in Florida and then in Colorado. We opened the first Laudisio on the corner of 28th and Iris 20 years ago and then moved to the 29th Street Shopping District in 2006. Through our Italian culture, we respond to the community awareness of real food. We change our menu seasonally to best utilize and reflect the beauty of the Boulder County gardens, waters and farms. We invite you to experience the joy of the Italian table. Cibo Vino Amici: Food, Wine, Friends. What else is there?"
Thank you, Antonio!
Product Spotlight: Think Modular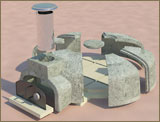 If you're thinking of purchasing a new wood-fired oven this spring, we invite you to "think modular."
That's right! In addition to our fully assembled ovens, we offer a number of modular oven kits. These ovens are easy to ship, easy to assemble and economical – all while offering you a chance to be creative by customizing your new oven enclosure.
Our modular oven kits include everything you need to assemble your own custom pizza oven in your home or outdoor area: the oven chamber and vent, dome and floor insulation, mortar, chimney and cap, door, and thermometer. You provide the stand and enclosure – and the inspiration!
Not sure whether modular or fully assembled is right for you? Here are the general guidelines:
If you have limited access to your oven site, or you want to build a custom enclosure or outdoor kitchen, a modular oven kit would be right for you. With our modular ovens, each piece can be picked up by two people and carried through a standard door or gate. (As the ovens get larger, the number of pieces increases.)
If access is not a problem, and you do not want to worry about the installation process, a fully assembled oven may be a good option for you.
Take a moment to view the anatomy of a perfect modular pizza oven, using our Casa2G as an example. You'll be able to see how all the pieces fit together. The image has roll-over content for each feature, so be sure to click on the captions for more information.
Our modular oven families include:
Note: If you prefer, the Giardino and Casa2G ovens can be installed on a Forno Bravo Cucina Series Modular Oven Stand, instead of a custom-built concrete block stand.
Resources:
Ready to shop? Visit the Forno Bravo Store!
Share with us! Visit the
Forno Bravo Forums or
send us an email.