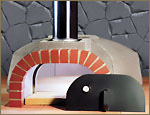 We'll be straight with you: Designed and manufactured by Forno Bravo, the Casa2G redefines the "state of the art" for wood-fired ovens. For professional-quality wood-fired cooking at home – at a price that will surprise – our Casa2G can't be beat.
(We invite you to compare the Casa2G Series with ovens from other suppliers.)
The Casa2G Series is a family of modular refractory pizza oven kits designed for home and garden use. Each Casa2G kit provides everything you need to assemble a world-class pizza oven: oven dome, vent and floor, mortar, board and blanket insulation, oven door, thermometer, and stainless steel chimney. (That means no other oven pieces to buy!)
Building a wood oven has never been so easy.
Some quick facts about our next-generation wood-fired oven series:
• Available in four sizes to meet any home cooking requirement, ranging from a 32" to a large 44" round cooking surface
• Dome is cast using high-density, high-alumina, vibrated refractory – far superior to old-fashioned, rustic ovens
• Dome pieces use interlocking design for a tight fit, better heat retention and better durability
• Ovens heat up quickly (less than an hour) and hold their cooking temperature for hours
• Cooking floor is made from large, 18"x18" compressed and kiln-fired firebrick tiles (same quality found in commercial pizza ovens)
For the budget-conscious, our Casa2G ovens cost significantly less than other modular ovens – and they are even competitive with the cost of building a brick oven by hand. With its excellent pricing structure and commercial-grade quality, the Casa2G is a true breakthrough product in the wood-fired oven market.
We've assembled quite a few resources (links follow) for you to learn more about the Casa2G Series. As always, if you have questions, don't hesitate to contact us.
• The Anatomy of a Perfect Pizza Oven (Casa2G)
• 10 Good Reasons to Buy a Casa2G Oven (Number 1? "I want to bake lots of Vera Pizza Napoletana for family and friends.")
• Sizes and Features of the Different Casa2G Models
• Casa2G Series Specification Sheet (PDF)
Ready to shop? Visit the Forno Bravo Store.
Share with us! Visit the
Forno Bravo Forums or
send us an email.