Just like that… the holiday season is upon us!
If you're looking for a unique, fun, truly stand-out gift, we hope you'll consider giving a Forno Bravo assembled oven to that special person on your list. With our fully assembled, ready-to-cook ovens, you give the gift of Vera Pizza Napoletana — not a huge home improvement project! The phrase "No Assembly Required" can be a wonderful treat in itself on a hectic holiday morning. (Remember, there are no rules that say you can't give yourself a present! In fact, I encourage it.)
We're excited to offer our Toscana Series and Primavera Series at new, lower prices. Read more about the professional-grade Toscana Series to the right, and see below to learn about which type of oven is right for you. We are also happy to offer new color options for our assembled ovens (details follow).
Important note from the Forno Bravo elves: If you would like your oven delivered before December 25, please place your order no later than December 4. Also, don't miss our special offer: a free infrared thermometer with assembled oven purchase! See bottom for details.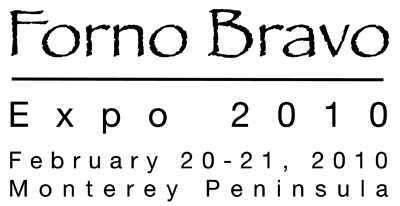 As a reminder, we hope you'll take a minute to mark your calendars for a special event: The Forno Bravo Expo 2010 — The First Annual Wood-Fired Oven Bash! Taking place in Monterey, Calif., on Feb. 20-21, 2010, the Expo will bring together wood-fired oven aficionados from around the world. For updates on the event, "fan us" at our new Facebook page!
From all of us at Forno Bravo, best wishes for fun, relaxing, food-filled holidays!
Regards,
James