Welcome!
Happy spring! As we in the wood-fired community know, this time of year is great to get out and really enjoy those outdoor ovens. We look forward to hearing reports of new oven builds and "what you cooked last night" over on the Forno Bravo Forum.
It's hard to believe our first Forno Bravo Expo was held more than a year ago. We are looking forward to this year's Expo, the premier wood-fired cooking and wood-fired oven event in the U.S. More details and registration info is included in the newsletter.
This month, we've also featured a fabulous recipe for Pulla bread from Finland, from our friend Tena McNeil of Home Pizzeria Ovens. And Peter Reinhart continues his "Peter's Corner" series, giving us an interesting update from the Asheville Bread Festival.
Switching gears, as many of you know, I am participating in the Boston 2 Big Sur Challenge again this year – back-to-back marathon races in Boston and Big Sur. Our racing team is a recognized fundraiser for the Christopher and Dana Reeve Foundation. In the Boston Marathon on April 16, I had a time of 2:58:43. Big Sur comes soon … May 1! Wish me luck.
We offer "Team Reeves" versions of our Forno Bravo eBooks for $10, and Forno Bravo matches all contributions. If you'd like to make a more substantial contribution to Team Reeves, contact us at info@fornobravo.com.
Thank you for your community support over the years.
Enjoy the springtime!
James
Forno Bravo Expo 2011: May 14!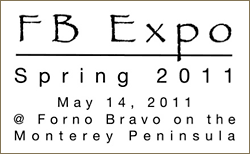 We are excited about the Forno Bravo Expo 2011, set for Saturday, May 14, 11 a.m. to 4 p.m., at the Forno Bravo offices on the Monterey Peninsula. It's been a busy time since our first Expo, with a lot of new ovens and new developments – and we have twice the space we had last year.
Complete details on Expo 2011 will be available shortly. To give you a taste of what we have planned, there will be live demonstrations, talks and hands-on seminars on a wide range of topics, including wood-oven cooking, Vera Pizza Napoletana, hearth bread, oven management, running a mobile wood-fired catering business, pizza ingredients, flour and more.
We will have representatives from leading food companies and catering companies and some great chefs – it should go without saying that we will eat very well. Just a few of our presenters include:
Joseph Pergolizzi from The Fire Within, suppliers of portable wood-fired ovens.
Doug Faber and Jasmine Faber of the PizzaGypsy.
Scott Thorsen of Bella Familia.
Michael Johnson of The Wood Fired Pizza Company.
Interested in seeing what happened at Expo 2010? It was a lot of fun:
Recipe: Pulla Bread From Finland

This month's recipe comes with a warning from Tena McNeil of Home Pizzeria Ovens, who passed the recipe along to us: "When baked in a conventional oven, this bread is incredible. When baked in a Forno Bravo wood oven, this bread is beyond goooood. However, we must warn you that this recipe is not for the weight-conscious. Moderation, moderation. Once you try it, you will be hooked forever."
Pulla Bread From Finland
Ingredients
4 tsps. active dry yeast
2 1/2 cups milk, heated to lukewarm
1 Tbsp. crushed cardamom (Note: Cardamom can be purchased at health food stores or online – must be crushed to a sandy consistency before adding.)
1 stick butter, very soft
1 tsp. salt
1 cup sugar
Approx. 7 1/2 cups flour
1 egg, beaten (plus 1 later for brushing the Pulla)
Cooking
Heat pan on stove to lukewarm. Pour milk into large bread bowl and stir in the yeast. Let sit for about 7 minutes. Add all the ingredients (except flour and butter) and stir well.
Now, stir in about 3 or 4 cups of flour, add the softened butter, and mix well. Add the rest of the flour, and mix and knead by hand. Continue to knead for about 10 minutes. Cover bowl with dishtowel and let rise in a warm place for about 1 to 1 1/2 hours.
Remove Pulla and put on a lightly floured table (use dough scraper). Cut into 2 pieces (makes it easier to handle); cover one half to keep it moist.
Roll the other half into a log shape and begin to cut small sections and roll into large, golf ball-size pieces. Put about 12 units on a greased or parchment-papered pan. Cover with dishtowel, and let sit for 15 minutes before baking. Now, do the same with remaining dough.
About 5 minutes before baking, beat 1 egg in a bowl. Take out a stick of cold butter. Take your thumb and make an indentation on each Pulla bun on the first pan. Put a small piece of cold butter in each bun. Brush each bun well with the beaten egg and sprinkle a small amount of white sugar over each bun. (Be careful not to get sugar on the bottom of pan; it could turn the Pulla black.)
In conventional ovens, Pulla can burn easily on the bottom before you get the top to brown (better in pizza oven). You will have to experiment, but basically it takes 15 to 16 minutes for conventional ovens at 375°. Pizza ovens take a few minutes less, at about 400°. The Finns like to bake the buns at 450°.
For stale Pulla: Put Pulla in a fry pan with butter until brown. Let cool enough to spread with strawberry jam, and top with whipped cream. YUM YUM.
Peter's Corner: Asheville Bread Festival Report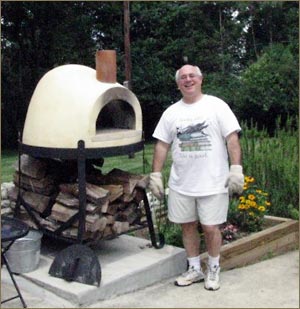 And now, the second installment of Peter's Corner by Peter Reinhart. This month, he shares his report on the recent Asheville Bread Festival.
Hi everyone,
The Seventh Annual Asheville Bread Festival was held on April 2. I did a demo class on sprouted wheat flour – my favorite new product that I believe will totally revolutionize whole grain breads. (For a taste, check out your local Whole Foods Market, where they have started using this flour to make delicious 100% whole grain breads unlike any other.)
In addition, two of the greatest bakers in America, Didier Rosada and Lionel Vatinet (yes, they're both French, but they live HERE now!) conducted workshops on traditional techniques and European hearth bread.
There were also lots of local bakers, many of them small wood-fired artisans, who displayed and sold products during the morning at Green Life Grocers, before we adjourned to the afternoon education sessions at A-B Tech, where they run a superb culinary and baking program.
See more on the festival on my blog at Pizza Quest.
Most important, this year featured a tour of an exciting and important project. Carolina Ground, L3C is a group of bakeries working to close the distance between the farmer, miller and baker in the Carolinas by reviving the community mill. For lovers of good bread, this means even better bread!! And for the farmer and baker, it means a tangible level of security and sustainability.
We need your help! We have received a grant for half the cost of our equipment, but it's a matching grant. We need to raise the other half or we lose the dough.
Check out the website for more details. When the website asks for your support as a benefactor, know that this is not just a donation but actually gives you shares in the project – you become a partner and investor and will profit as the mill profits.
I'll be back next month with some more news and thoughts. Till then, may your crust be crisp and your bread always rise!
— Peter
P.S. You can follow me on my baking blog at peterreinhart.typepad.com, as well as on PizzaQuest.com