Variations
This is a versatile dough that can be made into rolls or breadsticks. The technique for forming rolls is shown under the Kaiser recipe later in this section, and you can take a look at the Breadstick Shaping Video to see how they are made. Simply roll out the dough you've set aside from your baguette making to about ¼ inch thick. Using a pizza wheel-cutter, slice the dough into ½ inch strips (don't be too fussy about shape, irregular is better), place them on oiled parchment paper, spray the strips with water or oil, and sprinkle on your choice of sea salt, spices or poppy seeds in any combination. Loosely but completely cover the sheet pan with plastic wrap, and let the sticks rise for the same time as the baguettes. A little longer won't hurt.
Place the sheet pan on the hearth, steam briefly, then seal the door. These will bake in a flash. Check after five minutes. If the tops show good color, and the sticks have risen well, remove them immediately. Again, be patient with cooling. These are best eaten the same day as they are baked.
Four baguettes made from this recipe are shown in the foreground, surrounding a jug full of breadsticks made from the same dough.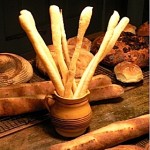 Baguette Shaping Part One Video
Baguette Shaping Part Two Video