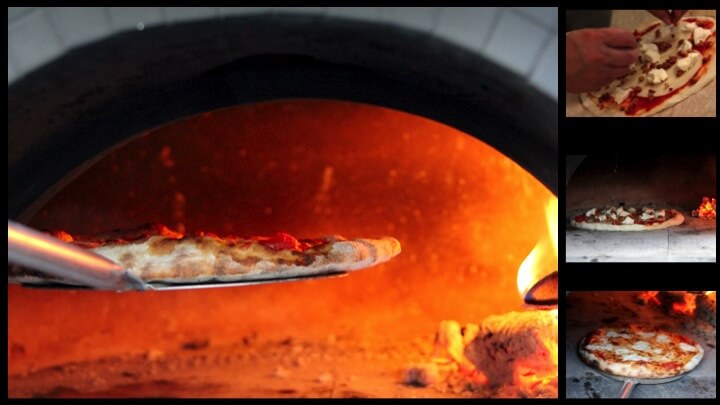 Pancetta Pizza with Smoky Tomato Sauce
During the last few moments of cooking, using a pizza peel, lift the dough off the hearth and "dome" the pizza until the dough has charred and the pancetta is crispy.
Smoky Tomato Sauce
6-8

ea

tomatoes medium size

2-3

cloves

garlic, sliced

8-10

ea

basil leaves, fresh

1

tblsp

olive oil

1

pinch

red chili flakes

sea salt / black pepper
Form and stretch the dough to the desired shape and size.

Spoon the smoky tomato sauce over the base. Place the provolone cheese over the top of the sauce and scatter the mozzarella over the top of the provolone. Sprinkle the pancetta over the cheese and finish by scattering the chili flakes over the top of the entire pizza.

Place in your Forno Bravo oven and bake.
Smoky Tomato Sauce
Core tomatoes, slice in half lengthwise and score the bottom with an "x" cross-cut. Place tomatoes in a roasting pan, drizzle olive oil over the top and season liberally with salt and pepper. Add basil and chili flakes and place into the wood oven.

Note: I typically roast the tomatoes when the oven is warming up to capture the smoke flavor and a lower heat of 350-400. If planning ahead, roast them when the fire has died off and the pizzas are done for the day for your next cooking session.

Roast the tomatoes for 10-15 minutes. The skin should blister and the tomatoes should begin to break down and release some of their juice. Remove the tomatoes from the oven; using tongs, pull off and discard the skins and transfer the contents to a small saucepot. Reduce the sauce by 2/3 over medium-low heat. During the cooking process, use a whisk to break up the larger pieces of tomato or use a food mill to break down to a smooth consistency. Remove from heat, taste, adjust seasoning if needed.

Let sauce cool. Sauce can be stored covered in the refrigerator for 3-5 days or divided equally into ice trays and frozen to use later. One to two cubes equal the equivalent portion for one pizza. (Defrost before using)