Welcome!
With spring in the air, we are excited to introduce the new, third generation of FB Castable, the material we use to produce our wonderful ovens. Bottom line? All Forno Bravo ovens just got better. Our ongoing pursuit of making ovens with the best-possible materials began nearly 10 years ago, in San Gimignano, Italy … with our first little oven. I've written a short history of how Forno Bravo came to be, inspired by our recent visit back to Italy.
We've included in this March 2012 Wood-Fired Newsletter a couple great recipes to try: a pizza topped with sautéed jalapenos and tri-tip steak, and a side dish of roasted carrots with bacon and maple syrup (which I'm told even vegetable haters will love). With spring here and summer on its way, we know those backyard ovens will be going strong. We invite you to find and share recipe inspiration over at the Community Cookbook.
Also, we are proud to announce that along with Pizza Quest's IACP (International Association of Culinary Professionals) nomination as a finalist for Best Culinary Blog, there is a people's poll that the site is nominated for. Please cast your vote for Pizza Quest! Click here to vote—through March 30th.
Finally, check out our monthly special at the bottom of the newsletter.
Enjoy!
James
Announcing: New Third-Generation FB Castable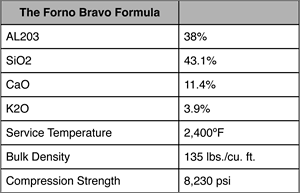 Over the years, we have developed a great deal of expertise at Forno Bravo with refractory materials and insulators, and have worked hard to continually improve. We are proud to now introduce the third generation of FB Castable, the material we use to produce our wonderful ovens. In fact, we have been shipping ovens with the new material for a number of months, and everything is going smoothly – so we wanted to share the news with you. This is big.
Our third-generation FB Castable material features a new and more complex array of refractory aggregates (calcined material in different shapes and sizes that creates a structural web) for an even stronger ceramic bond, along with a higher grade of calcium aluminate cement. It delivers an awesome – and industry-leading – 8,230 psi compression strength. That means better cooking performance and better durability. FB Castable is designed, blended and cast at our factory in California – proudly made in the USA.

In one sense, our pursuit of the best-possible oven materials started with the first modular oven I bought and installed in San Gimignano. (See article to the right.) Before I visited the oven factory, I spent a contented afternoon sitting in the autumn sunlight, reading the oven producer's brochure and translating the Italian.
While the installation instructions were good, I was struck by the fact that each residential oven was available in two versions: one in a red-colored material and the other in gray. After struggling with my bad Italian, I realized the company was following the traditional "good" and "best" product strategy. The red ovens were made using a product that roughly translated to "small volcanic pieces." The gray ovens on the other hand were easy to identify: The company called them "refrattario."
I met the company owners armed with questions, and they did not disappoint me with the answers. The red ovens were in fact made using a locally sourced terracotta material strengthened with a heat-resistant volcanic aggregate – significantly less expensive than true refrattario. Because in their minds the ovens were for occasional, hobby use (their word in this case), the red material wasn't great, but good enough. If you were serious, they said, you would pay a lot more for a true refractory oven – which used the same material as their restaurant ovens. But, they were a lot more expensive.
As a buyer, I thought this was confusing and made the decision harder than it should be. Was the cheaper oven really good enough? Should I pay a lot more for the better oven?
So, I decided from Day One that Forno Bravo would use the same commercial-grade, true refractory material for all our ovens. Over the years, we have continually improved our ovens and the materials we use, which is why we are excited to announce the third generation of FB Castable. This true refractory material is our own proprietary technology that delivers remarkably fast heat-up times, great heat retention and unrivaled durability. And, as mentioned above, it is incredibly strong.
Read more about FB Castable and why it is such an important refractory technology.
Peter's Corner: Sautéed Jalapeno and Tri-Tip Pizza by Brad English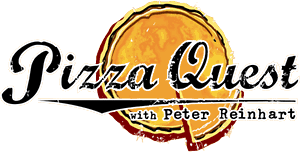 Peter Reinhart, our Pizza Quest host, baking instructor and baker extraordinaire, shares a new pizza recipe from Brad English.
Spice things up with this delicious new recipe from Brad English! – Peter
"My in-laws were down one weekend recently. We had grilled up some tri-tip the previous evening and had a good amount of leftovers. I thought I would take advantage of this favorite ingredient of mine that I had lying around. One of our favorite meals is a pepper steak, which features leftover tri-tip, chopped bell peppers and onions all sautéed up with a little oil, salt, pepper and any other herb or spice we feel like throwing in. Toss this with pasta and you have a happy English family. But, this time, I was going to take this to the flatbread…"
Ingredients:
Pizza Quest Signature Beer Dough
Quality canned tomatoes
Grated mozzarella
Sliced and sautéed onions
Sliced and sautéed mushrooms
Sliced and sautéed jalapeños
Sliced pieces of grilled tri-tip steak
The Prep and Build
For this pizza, I simply used tomatoes crushed out of the can for the sauce. Build the pizza by placing the crushed tomato sauce on the dough. Add the grated mozzarella. Add the sautéed mushrooms, then the onions, then the sliced grilled tri-tip steak and finally the sautéed jalapenos. Place the pizza into a preheated, 550-degree oven on your pizza stone. If you have it, switch the oven over to convection bake. Check the pizza after about 7 minutes. When it's done, remove and enjoy.
Condensed from Brad's original post on Pizza Quest.
Community Cookbook Recipe: Roasted Carrots With Bacon and Maple Syrup
We hope you enjoy this month's featured recipe from the Forno Bravo Community Cookbook, written by our moderator Dan Compton. Want to add your own recipe? Take a few moments to create a free Community Cookbook account: post recipes, ask questions, share photos, comment and vote!
---
Ingredients:
5 oz slab bacon
1 1/2 lbs carrots
1/4 C maple syrup
1 T butter
Salt and pepper to taste
Cut the bacon into lardons: First, cut the bacon into 1/4"-thick slices. Lay the slices flat and make 1/4" slices perpendicular to the striations of meat and fat, so that you are left with little sticks of bacon approximately 1"x1/4"x1/4". If you can't find slab bacon, just dice up 5 ounces of regular breakfast-style sliced bacon.
Preheat a roasting pan in a medium-hot wood oven. Meanwhile, peel the carrots and cut them into bite-sized pieces. Once the pan is warm, add the lardons or diced bacon and cook slowly, stirring often, until the bacon is golden-brown and crispy and a good amount of fat has rendered out. Use a slotted spoon to remove the bacon, reserving the fat in pan.
Add the carrots to the roasting pan, season with salt and pepper, and cook in the bacon fat, stirring occasionally, until the carrots are caramelized and somewhat soft, about 6-8 minutes. When they're almost done, add the bacon back into the pan, along with the maple syrup and butter. Allow to cook for another 1-2 minutes, until some of the moisture has cooked out of the syrup and the carrots are nicely glazed. Remove and serve to even the most picky vegetable hater.