Welcome!
We at Forno Bravo hope 2012 has been good to you so far! The holidays are always a busy time for our company, but we love the work and are thrilled to welcome new oven owners to our Forno Bravo community.
I'd like to take this opportunity to thank all the Forno Bravo team members for an excellent 2011 … and an already great start to 2012. Their hard work and dedication make for some great ovens and excellent customer service.
The start of the year brings quite a bit of news we're happy to share with you, including three just-announced Forno Bravo ovens and a wonderful pizza flour we're now selling through the online store – Central Milling's Organic Panissimo Type 00 Normal. We also want to pass along a review of what happened on Pizza Quest in 2011, courtesy of Peter Reinhart.
Let's all cook some amazing dishes this year! Here's to the joy that is wood-fired cooking.
James
Central Milling Flour Arrives at the FB Store

What a great way to kick of 2012: We're welcoming Central Milling to the Forno Bravo Store! Central Milling is the oldest continuously operating mill in Utah and has provided flour and grains to homes and bakeries across the country for 145 years and counting. Their Panissimo 00 Organic pizza flour is being used by a growing number of "elite" pizzerias, and it is now available to homeowners for the first time! And only through the Forno Bravo Store. We at Forno Bravo are thrilled to now be selling Central Milling's excellent Organic Panissimo Type 00 Normal pizza flour through the FB Store, specifically 2-packs and 5-packs of 5 lb. bags, and in a 50 lb. bag. You will love using this flour.
Keith and Nicky Giusto head up Central Milling. We asked Nicky to share a little about the Organic Panissimo Type 00 flour below. (Nicky represents the fourth generation of his family to work with flour and grains!)
Grain selection: "We source only premium high-altitude hard wheats for our wheat blends. They are selected based on color, flavor and optimal baking performance."

Milling: "We mill slow and cool, which minimizes starch damage. We mill based on quality, not quantity. Our mill is water-powered as well. Our slightly elevated amount of ash in this flour does wonders for flavor and water absorption."

Extensibility: "The 00 Normal is quite extensible and is great for high-hydration doughs, which result in pillow-like dough balls."

Wood-Fired vs. The Stone: "This flour bakes similarly in both settings – providing you can get your conventional oven up to temp. The wood-fired oven will yield slightly less leoparding than other 00 flour, but will give a more attractive golden crust. The crumb will have a bit more mouthfeel and more of a yellow hue rather than a pasty white look."

Baking/Pizza Experts Who Like Central Milling and Our Flour:

… to list just a few.
Central Milling believes that good flour starts at the farm, and they are always on the hunt for wheat with exceptional color and flavor. They work directly with local organic family farmers to grow the grain in a manner advantageous to the environment. In addition to the Utah mill, Central Milling has its own award-winning organic bakery in Northern California that tests flour daily for taste, color and functionality.
Finally, we should mention that Nicky and his uncle Keith not only worked to create the special flour blend for Pizza Quest's Signature Challenge Dough, but the company is also an official sponsor of Pizza Quest. Here's the recipe for the dough: Pizza Quest Challenge Pizza Dough.
Extra Helping: More Forno Bravo News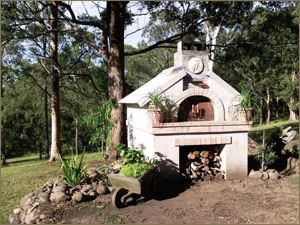 Forno Bravo elsewhere: In addition to Facebook and Twitter, Forno Bravo is now on Google+. Please join us at the social media venue(s) of your choice!
Photo contest: With more than 40% of the votes, our Down Under Photo Contest winner is this beautiful oven from Wauchope:
The photographer won free oven tools from A Pizza Italia, the Forno Bravo distributor for Australia. Congratulations, and thanks to all who entered and voted! See the full gallery of entries.
Community Cookbook: Be sure to head over to the Forno Bravo Community Cookbook if it's been a while since you last visited. We've added tons of recipes and photos. As a starting point, here are links to recipes recently posted by Dan Compton, our Cookbook moderator:
Take a few moments to create your own free Community Cookbook account: post recipes, ask questions, share photos, comment and vote!
Peter's Corner: Year-End Wrap-Up and Crab Season Pizza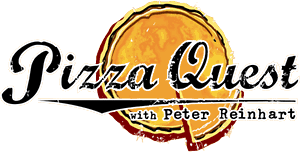 From Peter Reinhart, our superb Pizza Quest host, baking instructor and baker extraordinaire.
It's amazing how much info has accumulated on Pizza Quest in just one short year, so thank you to all of you, including our contributors, for creating this amazing community dedicated to the celebration of artisanship, both in pizza and in all aspects of life. Read more at my 2011 year-end wrap-up on Pizza Quest.
Below I've included a link to a new recipe from Brad English: Crab Season Pizza. As always, he's included some beautiful photography with his post.
Happy New Year, everyone – more to come in 2012 …
– Peter
---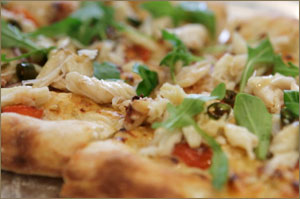 I decided to try to make a simple pizza and finish it off with the cooled crab on top after it cooked. This is a great way to enjoy a "special" ingredient in a not so common way – on a pizza. I wanted to build a pizza that supported and showcased the crab as it was, as close to how I had just eaten it: cracked, dipped and devoured.
Ingredients
Peter's Classic Pizza Dough Recipe
Peter's Herb Oil Recipe
Shredded Mozzarella Cheese
Shredded Provolone Cheese
Preserved Lemon, or Lemon Curd
Sliced Red Onion
Grape Tomatoes
Fresh Cracked Crab – Steamed and Cooled, or a Quality Canned Lump Crab Meat
Chopped Kalamata Olives
Fresh Arugula
Spiced Fish Sauce
For step-by-step instructions with photos from Brad, visit Crab Season Pizza on Pizza Quest.