Welcome!
As another year draws to a close, I'm happy to report that 2012 has been especially productive and rewarding for us at Forno Bravo. We've introduced new ovens (Strada60, Napolino), redesigned the Primavera70, updated our online store (filled with great gift ideas for the holidays and otherwise), announced our third-generation Forno Bravo castable, started the Wood-Fired Blog … and the list goes on.
I am so thankful for the wood-fired community that has grown around Forno Bravo since 2003. Our customers make all the work we do fun and worthwhile, and our hope is to continue spreading the joy that is wood-fired cooking for years to come.
We know this is a busy time for everyone, so we are keeping our December newsletter short and sweet. Below, read about our photo contest, the winter edition. We look forward to seeing some nice (snow-covered!) entries. To the right, I share some exciting company news: Forno Bravo is moving into a much larger facility in January. This move brings a number of benefits to you, our customers, including making it easier for you to come and see us. Finally, for the "sweet" part of this newsletter, find a recipe for roasted sweet dumpling squash below, a tasty addition to any holiday table.
Enjoy some special visits with family and friends over the coming weeks – even better if that time is spent around a wood-fired oven. The happiest of holidays, from the Forno Bravo family to yours.
James
Photo Contest, Winter Edition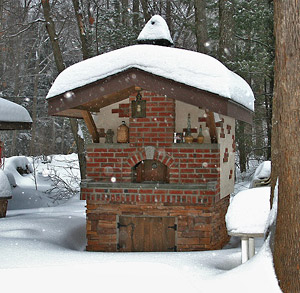 It's such a treat for us to see pictures of wood-fired ovens in different environments all around the world, and we know many of you gain inspiration from browsing our online photo albums and Forum galleries. For your viewing pleasure, we just added three new pages of oven photos to our online album, pages 53 to 55.*
To collect and share even more pictures, we're excited to announce a new photo contest, winter edition. Note that the contest is for the best photo, not the best oven. This means that oven owners who have submitted photos in previous contests can take new pictures for submission in this one.
How it works:
Email your entries to photos@fornobravo.com between now and January 31. Include your name and oven location, and put "Photo Contest" in the subject line.
We'll pick five finalists and post them in the Forno Bravo Forum on February 1, along with a poll for you to vote for your favorite. We'll link to the poll from Facebook as well.
We'll announce the best photo award in the February newsletter and on Facebook.
The winner earns a Forno Bravo "Got Wood?" T-shirt and bragging rights.
*These photos do not automatically qualify for the contest. To enter, please follow the steps above.
Recipe: Roasted Sweet Dumpling Squash
With Blood Orange Vinaigrette
We hope you enjoy this month's featured recipe from the Forno Bravo Community Cookbook, written by our chef moderator Dan Compton. Want to add your own recipe? Take a few moments to create a free Community Cookbook account!
---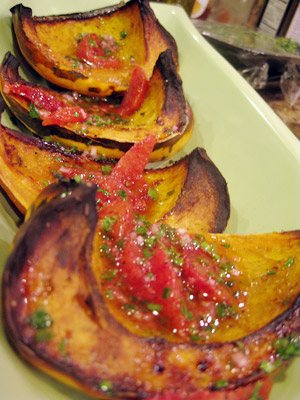 This side dish brings a blast of color and flavor, perfect for holiday menus or any winter day.
Ingredients:
1 sweet dumpling squash
1 tsp vegetable oil
4 blood oranges
1/2 shallot, minced
1 tsp dijon mustard
3 t white wine vinegar
1/2-3/4 c extra virgin olive oil
1 tsp chives, minced
1 tsp parsley, chopped
salt and black pepper to taste
Split the squash in half through the stem end. Use a large spoon to scoop out the seeds and squash guts from each half. Split each half again. Rub with the vegetable oil and season with salt and pepper to taste. Place in a baking dish and roast in a medium-heat wood oven, rotating frequently. The squash is done when tender when pierced with a knife, about 30 minutes.
While the squash is in the oven, make the blood orange vinaigrette. Start by supreming the blood oranges. For an in-depth description of how to supreme, refer to my recipe for roasted brussels sprouts. The quick version: With a sharp knife, remove the peel and pith from the outside of the oranges. Cut between the segment walls to remove the wedges of fruit. Once you've harvested all the fruit, squeeze any remaining juice out of the leftover innards.
In a bowl, combine the juice, shallot, mustard and vinegar. Season with salt and pepper. Whisk in the olive oil. I've given a range for how much you'll need because it will depend on how tart your oranges are. Once the vinaigrette tastes good to you, fold in the herbs and orange segments.
Spoon the vinaigrette over the squash and serve.