Welcome!
Ah, September. The month marks so many things: the close of summer, back-to-school time, a chance to recommit to work or other pursuits after (we hope) a little downtime, an ideal opportunity for reflection.
On a personal note, we've been doing a lot of our own reflecting lately, as we dropped our oldest daughter off at college this month – a huge transition for us, but such an exciting time for her. We are missing her, but of course we know she is doing the right thing: building her own life! (Sigh …)
We did get to spend a part of our summer in Greece, where I was especially excited to learn more about Greek wood ovens. I've shared some of our observations below. We've also included an article on choosing fire wood for your oven, inspired by our stock of olive wood in Greece. Finally, in Peter's Corner, our estimable Pizza Quest host Peter Reinhart shares a recent webisode featuring world pizza champion Tony Gemignani.
And for all our friends in Australia: Spring is upon you!! Stay tuned because we will be revealing some exciting news from Down Under very soon.
Here's to a new season. (Good thing our favorite wood-fired ovens are perfect all year round!)
James
Travel Report: The Greek Wood Oven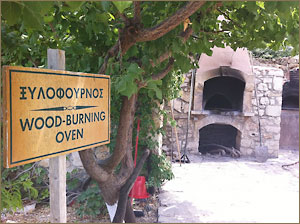 Below is a summary of James's travel report on Greek wood ovens. To view the full article, visit the Forno Bravo Forum. For photos of the Greece trip, visit Forno Bravo's Photo Gallery.
We recently returned from a summer trip to Greece, where we visited Athens and Crete. Along with the Acropolis and great beaches, I was really looking forward to seeing the Greek wood ovens.
The first thing I noticed on our trip was how ubiquitous wood ovens are in Greece, both in restaurants and at homes. Driving through the countryside, you could easily see wood ovens dotted around on patios and in backyards.
In our town (Rethymno on Crete), there were three wood oven manufacturers within 1/4 mile of each other. Not just distributors, but manufacturers, with huge brick-cutting saws and oven forms, and inventory, along with retail sales.
Remarkable. Much like Italy, the Greek oven market is highly fragmented and characterized by a large number of small, mom-and-pop companies. The other interesting thing this market density shows is just how popular wood ovens are in Greece. I have said it many times over the years: The pizza oven is nearly as popular in Italy as the gas grill is in the United States. And this also holds true in Greece.
The next aspect worth noting is how the style of Greek cooking affects their oven design. The traditional Greek wood oven does a lot of meat roasting and less pizza making. As a result, the Greek oven opening is higher than a traditional Italian pizza oven, to allow for larger roasts, and to correspond with the higher oven dome (for better heat retention).
I have to say that while I find the shape and design of the Greek oven interesting, it is not something I would recommend to an oven builder. I think the Italian oven designs that we advocate, both with the Pompeii oven and all the Forno Bravo-produced ovens, provide a better balance of performance for both pizza baking at high temperatures and bread baking and roasting meats with retained heat.
We saw that the quality of the workmanship varies widely (very widely), from ovens that look pretty good to ovens that are extremely rough. I have posted photos on FornoBravo.com so you can see what I mean.
Even in a traditional culture, with a long heritage of brick ovens, there are not many masons who really understand how to properly install a brick oven. At our rental house, the brick oven was installed with no insulation around the dome, and the finish stucco was applied directly to the outer shell of the oven dome (no, really).
In a "don't do this at home" moment, I learned what can go wrong. First, because the stucco comes in direct contact with the hot oven dome, it expands and contracts when the oven is heated and cooled, and it quickly starts to crack, spall and fall apart. The stucco on our oven was literally falling off. Then, because the oven itself is not protected from the elements, the dome gets wet, which causes serious cracking when the oven is heated and cools. Our oven had cracks large enough to let smoke and hot air escape through the dome and enclosure. Ouch. (See photos here.)
So, if you are installing a Forno Bravo oven or building a Pompeii oven, do your research to ensure your installer (or you) does it right.
All told, our Greek brick oven experience was a really fun part of the trip. The restaurants were proud of their ovens; they advertised them on the menu and on their signs and logos. Exploring the countryside with a digital camera to take photos of ovens was a lot of fun. And of course we had a ball with the oven at the house. We used it five times, making pizza, flat breads, hearth bread and lamb.
Peter's Corner: Tony Gemignani Margherita Pizza Webisode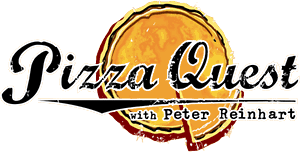 Peter Reinhart, our superb Pizza Quest host, baking instructor and baker extraordinaire, shares one of the latest webisodes from Pizza Quest.
---
In this webisode, Tony Gemignani teaches me (and you) how he makes Margherita pizza.
You'll notice a few great tips, things that aren't commonly known even by professional pizza makers, such as:
The traditional Napoletana way to load the pizza onto the peel
Shaping the dough on the marble slab as opposed to lifting or spinning it
When to put the basil on
The importance of bringing the dough to room temperature before putting it into the oven to prevent burning the underside
Catch the quote on the back of Tony's T-shirt: "Respect the craftsman." That's become his mantra as he's transitioned from being an American pizza whiz-kid, winning innumerable competitions for his acrobatic prowess to, now, mastering and teaching the time-honored, traditional methods that he learned from his own master teachers when he studied in Naples and the surrounding area.
Enjoy!
Peter