Welcome!
While many of us here in the United States are preparing for or already enjoying "sweater weather," our friends Down Under are welcoming springtime! And the cycle of the seasons continues…
We mentioned in our previous newsletter that we would soon have an exciting announcement about Forno Bravo in Australia to share – and now we can tell you that news: We have appointed a new distributor in Australia, A Pizza Italia, that is currently selling our complete line of Forno Bravo ovens across the country. See the article below for more details – and information about a special Down Under Photo Contest to the right.
In Peter's Corner, our Pizza Quest host Peter Reinhart highlights a recent webisode on pizza dough-tossing – truly a must-watch video featuring Tony Gemignani.
Finally, check out our special offer at the bottom. If you've been thinking of purchasing a professional-grade pizza stone, either for your own kitchen or as a gift, now's the perfect time!
What a great worldwide community we have! Please continue to use the Forno Bravo Forum and Facebook to share and connect with other wood-fired oven fans, and, as always, let us know how we at Forno Bravo can support you.
James
Celebrating Spring in Australia: A Pizza Italia & Forno Bravo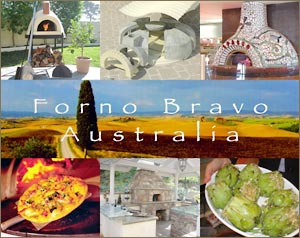 We're pleased to announce that we have appointed a new distributor in Australia – A Pizza Italia – that is now selling our complete line of Forno Bravo ovens across the country! The first container of ovens is on its way, and there are already customers looking forward to their Forno Bravo ovens.
The ovens are made in the United States at our own factory and shipped in very secure wood crates to Australia via container ship (a cost- and fuel-efficient means to move goods).
Our new Australian partner has experience with portable wood-fired ovens and cooking, and already has a couple Forno Bravo ovens in the field catering events.
They stock locally in Australia and ship nationwide, so for those of you in Australia, you now can call a local phone number, buy in Australian dollars and get reasonable local shipping rates. Here are the contact details:
A Pizza Italia
per l'amore della pizza ("for the love of pizza")
Inquiries: info@apizzaitalia.com
Contacts:
Nick Ashby — nick@apizzaitalia.com — +61417295842
Andy Martin — andy@apizzaitalia.com — +61413438554
Address:
204 Booker Bay Road
Booker Bay
NSW 2257
Australia
Online: www.apizzaitalia.com
Finally, because the Forno Bravo Forum has a large Australian contingent, there is a dedicated section for our friends in this part of the world: Forno Bravo Forum, Australia
We are all really excited about this news and will keep you posted!
More About A Pizza Italia
It's about two guys with a fire.
It's about a passion for traditional Italian-style pizza!
It's all about the oven!
A Pizza Italia! is owned by Nick Ashby and Andy Martin. Based on Australia's east coast, one hour north of Sydney, with stunning beaches and a climate just right for outdoor living, A Pizza Italia! is perfectly situated to provide the perfect Italian experience to pizza lovers from Sydney to Newcastle and all parts in between.
Both Nick and Andy have an eye for quality and a deep passion for good food, which led them to discover the Forno Bravo ovens and its importance in creating the "PERFECT PIZZA." In addition, Nick has extensive background experience in hotel and restaurant ownership and in the food and catering industry.
Peter's Corner: Flying Pizza Webisode With Tony Gemignani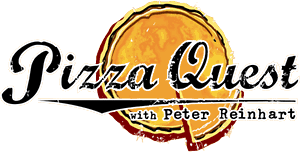 Peter Reinhart, our superb Pizza Quest host, baking instructor and baker extraordinaire, shares one of the latest webisodes from Pizza Quest.
---
In this webisode, we again feature Tony Gemignani, outside his San Francisco restaurant. You're going to love this one! Tony schools me on the art of dough-tossing, both for function and for acrobatics.
As those who have made my recipes know, my doughs tend to be too wet and fragile for tossing, so I always use flour on the backs of my hands, with my thumbs on the edges, to rotate it around. Tony's dough, which is firmer and not sticky, was easy to toss around. After a few minutes of lessons from the master, I was not embarrassing myself too much. (We had gathered a nice crowd around us, there in the middle of North Beach, San Francisco, where Tony's Pizza Napoletana is located.)
This webisode should prove instructive for any of you who want to toss your dough the way the professionals do, and, in these few simple instructions, Tony really does give us a lot of information and technique. Also: Enjoy the short tease at the end of Tony spinning dough for us – it is but a small sample of what he can do when he gets going!
Enjoy!
Peter
P.S. If you follow Pizza Quest on Facebook or regularly check the site, you are probably aware of "The Big Reveal" – the pizza-beer pairing challenge in Denver. If not, you can read the four-part series online, with recaps from me and some great photos from Brad English. Start with The Big Reveal, Part One!