Welcome!
We're devoting this issue of our Wood-Fired Newsletter to the Forno Bravo Expo held earlier this month, including some of the great recipes from the demonstrations. On behalf of the Forno Bravo team, big thanks to everyone who attended this year's Expo – and to the chefs and caterers who gave everyone great tips and a lot of delicious food!
We're also happy to report that Pizza Quest continues to grow with beautifully filmed webisodes, thoughtful guest columns, video and written instructionals, and, of course, wonderful input from our friend Peter Reinhart. On that note, "Peter's Corner" will return in the next issue of our Wood-Fired Newsletter.
Keep sending photos and stories of your oven builds, completed ovens, pizzas and the rest – we love hearing from you. The Forno Bravo Forum is a fun place to be.
James
Forno Bravo Expo 2011 Recap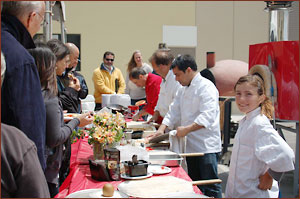 At this year's Expo, held on May 14, we welcomed visitors who flew in from Seattle, Minnesota and Southern California just for the event, and we enjoyed meeting a lot of new people and catching up with a number of old friends.
We ate well: pizza, chicken, salmon, salads, veggies, bacon and a bunch of wonderful dessert pizzas. The weather was cooperative, and the morning clouds burned off, yielding some nice blue sky.
After a short meet and greet, we got down to business (OK, fun business) with cooking demonstrations by great chefs and caterers:
Jasmine and Doug Faber
The Pizza Gypsy: mobile wood-fired pizza serving California's Central Coast
Michael Johnson
The Pizza Company: wood-fired pizza and catering in the Sacramento area
Joseph Pergolizzi
The Fire Within: builds portable wood-fired ovens and helps people start their own catering businesses
Scott Thorson
Bella Familia: wood-fired caterers serving the Sacramento area
From appetizers and entrees to pizzas and sides, we saw and sampled a lot of delicious food. To finish the demonstrations off, we enjoyed a session on preparing desserts in a wood-fired oven. Wow!
We will be doing Expo in Marina every year going forward, and we are considering holding a smaller "open house" each quarter to teach the basics of oven operation and cooking. Stay tuned!
Tressa Johnson, Michael Johnson's wife, took some amazing photos at Expo. They are definitely worth checking out. See full album (100+ photos) here – including some of that dessert pizza.
Expo Recipes: Skirt Steak and Wok Shrimp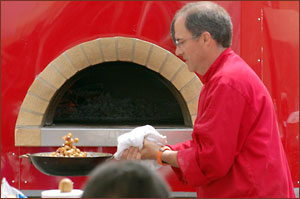 Scott Thorson of Bella Familia demonstrated the following skirt steak and wok shrimp recipes at Expo. Enjoy!
Skirt Steak
4 pounds skirt steak cut into 6 inch lengths
16 oz soy sauce
16 oz any white vermouth
As much chopped garlic as you can stand
If using less steak, use 50-50 ratio of soy to vermouth
Mix soy, vermouth and garlic. Marinade steak in mixture for 1-2 hours.
Use a cast iron pan, skillet or griddle in wood-fired oven, cooking for 2-3 minutes per side depending on thickness of steak. (This recipe works great on a grill, too.)
Wok Shrimp
Garlic herb butter
Olive oil
2 pounds raw shrimp, peeled and deveined (I use 20-25 shrimp size)
White wine
Use a Mandarin wok or any wok with a handle. Heat wok for a minute or so in fire.
Take out of oven and place a few tablespoons of garlic herb butter, a bit of olive oil and a bit of chopped garlic into wok and put back in oven to heat up.
When garlic is fragrant, pull wok from oven and add shrimp and wine.
It takes about 3-5 minutes to cook shrimp in oven, tossing shrimp as needed in wok while cooking.
Expo Recipes: Bacon Wrapped Asparagus
Joseph Pergolizzi of Fire Within demonstrated the following recipe at Expo.
Bacon Wrapped Asparagus
Cut organic asparagus in half.
Put in a pot of water.
Blanch the asparagus right by the oven entrance.
Boil for 15 minutes or until the asparagus turns bright green.

Slice organic bacon and cut in halves.
Wrap bacon tightly around cut pieces asparagus.
Place on sheet pan toward the front of the oven.
Bake until bacon is crisp.
Add sea salt and pepper.
Let cool for 5 minutes and enjoy.
Great for breakfast or a summer BBQ.
Expo Recipes: Stuffed Eggplant and Salmon with Roasted Sundried Potatoes
Michael Johnson of The Pizza Company demonstrated the following two recipes at Expo.
Stuffed Eggplant
Part 1
Make sauce ahead of time:
— 32 oz can of diced organic tomatoes
— Salt and pepper
— 1/4 cup of olive oil
Put on a baking pan.
Place in the oven.
Put the door on the oven and kill the fire.
Bake for 10 minutes.
Part 2
Restart the oven.
Slice eggplant in 1/8 inch long slices.
Rinse and salt.
Brush lightly with extra virgin olive oil.
Place in the center of the oven on sheet pan and bake in a half sheet pan till brown.
Let cool.
Part 3
Cut triangle slices of fresh mozzarella.
Take a baked slice of eggplant.
Top with fresh mozzarella and 1 scoop of ricotta.
Add salt and pepper.
Roll the eggplant lengthwise.
Put back on pan and bake for 5-10 minutes in the center of the oven.
Serve with sauce.
---
Salmon with Roasted Sundried Potatoes
Part 1
Sundried tomato pesto:
Take 1 rehydrated cup of sundried tomatoes.
Put in blender.
Add 1/4 oil.
Add 1/4 parmesan cheese.
Season with salt and pepper.
Part 2
Roasted potatoes:
Take a mix of marble-size potatoes.
Mix thyme, salt and pepper into a cup of extra virgin olive oil.
Toss the olive oil and potatoes.
Place on a half sheet pan.
Roast for 15 minutes.
Cook near front of door.
Toss with pesto.
Part 3
Salmon:
Lightly oil a small, flat cast iron pan.
Place a small salmon filet in pan.
Sprinkle some rosemary on top.
Bake near the oven entrance for 10 minutes or until cooked.
Add salt, pepper and oil.
Serve all with potatoes.