Welcome!
Summer is in full swing, but things haven't slowed down for us at Forno Bravo. We've got a lot of fun projects in the works. One we're especially happy to announce is our online Forno Bravo Community Cookbook. See below for details on this new resource for the wood-fired oven community.
We're also excited about our summer contest – we're looking for the best wood-fired oven cooking videos! It seems everyone is posting videos these days, now that shooting and editing great videos is easier than ever. We love this trend and think it's an ideal way to share how you're using your oven.
This month also marks the six-month anniversary of Pizza Quest! Peter gives us an update below on some of the site's milestones.
Finally, as you may have heard, I've decided to take on a real challenge: running two marathons in one day! On December 4, 2011, I will be racing the California International Marathon in Sacramento in the morning, and then flying to Las Vegas to race the Rock-and-Roll Marathon that evening (the world's largest nighttime running event). That equals 52.4 miles by foot and 550 miles by airplane – in a 12-hour period.
As always, Forno Bravo is a recognized fundraiser for the Christopher and Dana Reeve Foundation. We will continue offering "Team Reeves" versions of the Forno Bravo eBook Series for $10 each, and Forno Bravo will match all contributions. Forno Bravo has raised thousands of dollars for charity over the past few years, and we are excited about this new opportunity.
Enjoy your wood-fired oven (or your neighbor's) on some of these beautiful summer evenings!
James
Community Cookbook Announced

We are excited to let you know about a new project we've been hard at work on: an online Forno Bravo Community Cookbook!
Our new Community Cookbook is just what it sounds like – a place where the wood-fired oven community can share recipes. From wood-fired oven newbies to experienced, been-there-tried-that chefs, we know this group is brimming with creative, tasty recipes and wood-fired cooking know-how.
You're invited to create an account and join the Community Cookbook. You'll be able to:
Share your own wood-fired oven recipes and photos
Build out your cook profile
Vote in our recipe contests
Comment on other members' recipes
We've set up recipe categories for pizzas, breads, appetizers, meat and poultry, fish, vegetables, rice and pastas, and desserts. Any and all recipes are welcome: the simple and the complex, the classics and the inventive. This online cookbook will make it easy for you to answer the question "What's for dinner?"
Forno Bravo will offer prizes for the most popular and best-reviewed recipes. (See this month's special offer.)
When enough recipes are added to the cookbook, we will compile them in a free eBook, available for download from the Forno Bravo Store. You'll be able to tell your friends and family that you've been published!
We hope you enjoy this new service from Forno Bravo. As always, we welcome your comments and suggestions for making this resource as helpful as possible. Enjoy!
Peter's Corner: Pizza Quest Celebrates Six Months of Success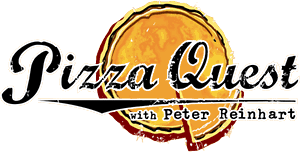 It seems like only yesterday … but it's been half a year since we launched Pizza Quest. What fun we've had! Thank you all for your continued support and engagement – what a great community. Here's our official six-month report. — Peter Reinhart
---
Pizza Quest with Peter Reinhart Hits Half-Year Mark
Online Site for Pizza Enthusiasts Celebrates Milestones After Six Months of Success
Pizza Quest with Peter Reinhart, a popular website dedicated to artisan pizza and authentic food, commemorates its six-month anniversary today. Milestones for producing informative and entertaining original video, photography, and written content mark Pizza Quest's journey since launching in December. Peter Reinhart, award-winning cookbook author and acclaimed baker, serves as narrator and primary host of Pizza Quest.
A site dedicated to the exploration of artisanship in all forms, Pizza Quest is building an online community of fellow "pizza freaks" by inviting people to share their own quest. This is done through ever-popular webisodes, weekly blog entries from Peter, recipes, and guest columns by contributors such as third-generation pizza maker John Arena, renowned baker Michael Hanson, and World Pizza Champion Tony Gemignani (owner of Tony's Pizza Napoletana in San Francisco).
The combination of each person's genuine love for pizza in all forms has made Pizza Quest and its unique content some of the most authoritative, fun and definitive information on artisan pizza and other authentic food movements found anywhere on the Internet.
"Pizza Quest uses one of the world's best-loved food icons – after all, who doesn't love pizza? – to celebrate, through inventive videos, recipes and thoughtful commentaries, the joys of good company and handcrafted, artisan food. I hope it grows and grows and grows," says Molly O'Neill, noted author of One Big Table and New York Cookbook, and a nationally known food columnist.
Pizza Quest (www.pizzaquest.com) is a joint venture between Pizza Quest and Forno Bravo.