Welcome!
Happy holidays from Forno Bravo!
First off, I'd like to thank all of you who recently supported our fundraising efforts for the Christopher and Dana Reeve Foundation by purchasing Team Reeve eBooks. On December 4, I completed the new running challenge I'd set: racing the California International Marathon in Sacramento in the morning (at a quick 2:55:04), and then flying to Las Vegas to race the Rock-and-Roll Marathon that evening. That's 52.4 miles by foot and 550 miles by airplane, in a 12-hour period. It was a complete blast, and I felt remarkably well afterward. Time to find a new running challenge.
And now, let's get right to the newsletter. This month's theme is winter cooking, and we've included a lot of recipe ideas for your holiday menu, information on wood-fired ovens and cold weather, and an update on our recent Down Under Photo Contest (we need your votes!!).
Thank you all for a great year. We wish you a wonderful holiday season and a happy 2012. The Forno Bravo community continues to grow, and we love hearing from you – so keep sending in and sharing those ideas, questions, photos and recipes!
Happy holiday cooking,
James
Down Under Photo Contest: Vote by January 12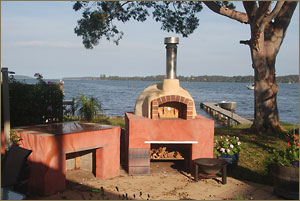 In October, we announced a special wood-fired oven photo contest for our friends Down Under. We received so many great entries – really amazing ovens and photos. The entire gallery is posted here: Down Under Photo Contest. You'll love perusing this group of photos, and thanks to all who entered.
Now, we need your help selecting our winner from the five finalists we chose. A voting poll has been set up in the Forno Bravo Forum, so please head over and vote by January 12. The top vote-getter wins a free oven tool from our new Australian distributor and will be featured in an upcoming newsletter and on Facebook.
Vote by January 12, 2012: Down Under Photo Contest.
Holiday Recipe Resource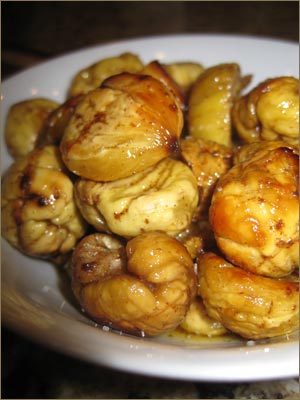 We love using our wood-fired oven for holiday cooking. It's a great opportunity to introduce the joys of wood-fired cooking to the uninitiated, and to share really special dishes with family and friends. We hope you'll also share with the Forno Bravo community by posting some of your favorite holiday recipes on our online Community Cookbook.
As noted in last month's newsletter, Dan Compton has joined the Forno Bravo community as the moderator of our Community Cookbook. Dan is a cook at Vie, one of only two restaurants in the Chicago suburbs to receive a Michelin star. Every week, he'll be posting wood-fired recipes and photos on the Community Cookbook. (We'll also be sharing them on Facebook and in the Forum.)
So, if you haven't already, now is the perfect time to create a new (free and fast) account on the Community Cookbook. You can post your own recipes, ask questions and add comments about other people's posts, and even rate recipes. Here are links to a few of Dan's recent recipes, great for holiday menus:
Despite their holiday ubiquity from a pop-culture standpoint, chestnuts are a woefully underused and underappreciated food that can bring some much-needed diversity to any holiday table. I'll make no claims to the contrary; chestnuts can be a bit of a pain to work with. But in the end, I think you'll find the effort is worth it. This is a simple recipe meant to highlight chestnuts' sweet, earthy flavor.
Based on informal polling, this was probably the best Thanksgiving turkey my family ever had, so give it a shot on your Christmas menu and you won't be disappointed. Oh, and don't forget to make some delicious smoky gravy from the drippings in the bottom of the pan.
This is one for making use of your oven as the fire dies and gentle residual heat does the cooking, while the smoking embers do the flavoring. Your smoked pear butter will be an awesome complement to roasted pork or roasted butternut squash, or simply spread on some toast or a scone.
Peter's Corner: S'mores Pizza
Peter Reinhart, our superb Pizza Quest host, baking instructor and baker extraordinaire, shares a video instructional from Pizza Quest.
This video instructional for S'mores Pizza has been on Pizza Quest for a little while, but I thought it was worth highlighting again during the holiday season. What a fun wood-fired oven dessert to make with the whole family or during a festive get-together. Enjoy, and happy holidays from Pizza Quest!
– Peter
---
This video instructional for S'mores Pizza features mobile oven owner Joe D'Astice. Joe is the founder of Woodfire Brick Oven Pizza, in Rockford, Ill. At his catering events, one of the most popular items is this S'mores Pizza, replete with melted chocolate, marshmallows and graham cracker crumbs. Yes, it's a total sensual indulgence, tasty to the max, but more importantly, it expands our thinking about what a pizza can be – limited only by our imagination.